Sounds True Dogs
As part of our commitment to creating a work environment that honors every facet of life, Sounds True employees are invited to bring their four-legged friends to the office. We are grateful for the cheerful and loving energy that comes from sharing our space with our canine companions—as many as 15 on any given day! Here are some of the dogs that regularly join us in our work and play:
---

Jasmine
Companion : Tami S., Publisher
Description : Jasmine (aka "The Noodle," "Jazoodle," or "JPC"—Jasmine Puppy Cakes) is one good-looking dog. She is an oversized blonde cocker spaniel with floppy ears and silky hair and a short tail that wags tirelessly. She wears a pink bejeweled collar with a large pink crystal necklace. Little girls love Jasmine and often think she is a stuffed animal that walked off the shelf. Jasmine is unusually intelligent (one spiritual teacher recording at ST remarked that Jasmine possessed the evolutionary development of a monkey in terms of her ability to pay attention and absorb new ideas). Jasmine's"personal growth challenge" is recognizing that food does not equal love. She has been coming to work with Tami since 2001 and counts among her best friends several beloved Sounds True employees.
"My biggest challenges are around food. For instance, it's very challenging to steal food off a high shelf or out of a sealed wrapper. Love is much easier." —Jasmine
---

Fife
Companion : Kristen C., Accounts Receivable Coordinator
Description : Fife enjoys long walks on the beach, bubble baths, candlelit dinners, and snacking between meals. Just ask her one true love, Sounds True's very own national account manager, for whom she would leave her guardian of 9 years in a heartbeat. Love REALLY knows no boundaries.
Fife Recommends:
"I am the dark feminine. It's not just because of my dark fur. My soul is a mysterious territory of churning creativity and forbidden passion. Dr. Estés gets it." —Fife
---

Luna
Companion : Grayson T., Copywriter
Description : Luna (aka Luna Lovegood, Lunatic, or the Duck-Billed Lunadon) is an Australian shepherd crossed with a chainsaw, and perhaps a dash of kangaroo. The beautiful and speedy Luna came to her home from the Colorado Aussie Rescue. She enjoys crunchable treats, agility training, and breaking trail while her people snowshoe, and is currently trying for the world record in stuffed toy de-stuffing. Luna is a naturally sweet soul who is steadfast in her belief that all beings can achieve oneness through playing with tennis balls.
Luna Recommends:
---

Olive
Companion : Jaime S., Editorial
Description : Olive (aka "Olive-loo" or "Sweetledee") is one of the newest (and most outspoken) members of the editorial team. She hails from the Pueblo Collie/Sheltie Rescue and has settled into the halls and hearts of Sounds True in record time. Olive has an amazing ability to open doors, jump baby gates (or miraculously remove them altogether), and generally make her presence known. Outside the office, she enjoys long hikes and runs with Jaime and thrives on heavy doses of daily doting.
Olive Recommends:
"I am a rescue dog, and I have had some trauma that made me anxious and afraid. Healing takes time and patience, but it is worth it to be happy." —Olive
---

Yoshi
Companion : Todd L., Graphic Artist
Description : Yoshi (sometimes known as Corky Boatshoes) is a pug, a whole pug, and nothing but a pug. He is thrilled by the arrival of other dogs or people into any situation, and tends to get a bit psyched at such times. He is a true snuggle champion, and is especially patient and loving with young children. In addition to his many fine qualities as a companion, Yoshi can perform a handstand while urinating, which he hopes one day will earn him an appearance on late-night television.
Yoshi Recommends:
"I am presence. I am the Now. To be a pug is to be completely in the moment. Especially when someone scratches under my collar." —Yoshi
---

Piper
Companion : Hayden P., Studio Engineer
Description : Piper (aka "Bubs") is a 100-pound lapdog with no sense of her own size. Being only part Lab (and part American bulldog), she will run to fetch a stick but not bring it back. The spot atop her head is her "off" button, but it has been broken for years. Water is her favorite pastime, and she will dunk her head to throw water into the air like an elephant. She feels the need to lean and step on her loved ones, most literally, and will knock you over with her weight. The most common thing we hear regarding Piper is, "What is she?" We still don't know.
Piper Recommends:
"As a part Lab, I totally believe in the healing power of water. Especially if you dunk your head in it and blow bubbles, then spray it everywhere! That's the best!" —Piper
---

Memphis
Companion : April W., Customer Service Events Specialist
Description : Memphis is a six-year-old Cocker Spaniel who loves the outdoors. Her hair is often groomed into a mowhawk and she is often refered to as the "Rocker Cocker." She absolutely adores coming into Sounds True and enjoys her routine treat collection.
Memphis Recommends:
"I love the life energy of Prana Pulse , it keeps me moving through all of my adventures!" —Memphis
---

Miles
Companion : Andrew P., Customer Relations
Description : Miles is a lifelong ST puppy. Here from the week he was adopted to now, he has grown much like our employees and customers. Perhaps more physically than spiritually, but you never know, he was happy from the minute he set foot through the door!
Miles Recommends:
"I just met you, and this is crazy, but I am a puppy, and I love you unconditionally." —Miles
---

Rusty
Companion : Michelle C., Metadata Specialist/Sales Administrator
Description : Rusty is a little dog with a big personality. He is 5 pounds of pure attitude. Like many of his breed, he is extremely loyal and very over-protective. Great watch dog, poor guard dog. He enjoys sleeping in, cat naps, yoga, and long walks through the park.
Rusty Recommends:
"Rusty loves practicing his downward dog!"
---

Brooklyn
Companion : Andrew K., Director of Sales
Description : Hi My name is Brooklyn Klein but my parents call me BK. I am 100% Maltese but my lineage may include pirate because I like to "argh" in lieu of woof at the mailman and others who walk by the window. My favorite sport is running around the house and eating the occasional shoe. I love spending time with my grandma, but have been banned from thanksgiving due to the turkey incident of 2011. I enjoy working with my dad a lot.
Brooklyn Recommends:
"I think Bluetech is really cool!" —Brooklyn
---

Una
Companion : Becca J., Lead Proofreader
Description : Una (aka Unabelle or Una Fish) is a Border Collie with striking bi-colored eyes. She tends to be timid around other quadrupeds, but has a deep, abiding love for humans. Una enjoys snuggling and squirrel patrol, but her ultimate passion lies in chasing her tennis ball. As a longtime disciple of the Orb of Ultimate Happiness, her unwavering devotion to the path of the ball is an inspiration to others seeking to achieve spherical enlightenment. Look for her debut novel, The Ball Is All , as soon as she works out how to use a keyboard.
Una Recommends:
"My human thinks it's kind of silly when I run after the ball before she throws it, but according to this, I'm just embodying the potential of the present moment. Now, where did the ball go?" —Una
---

Scruffy
Companion : Kasmah M., Executive Assistant
Description : Scruffalicious, Scruffs, Scruffos, Scruffers, McScruffersons - the possibilities are endless really. Scruffy started at ST in March of this year and has been thriving in a work environment. He loves stealing other ST hard working dogs' toys and hoarding them in his office. He loves long walks, chewing on stuffed animals - especially those that aren't his, cuddling, and naps.
Scruffy Recommends:
"He especially likes Down Dog and Up Dog."
---

Layla & Zena
Companion : Beth S., Production Artist
Description : The Girls are big-headed mixes with hearts to match. Don't let this docile photo fool you, their other nickname is The Crazies and they often frighten other dog parkers with their verbose antics. Layla's claim to fame is that she survived a water rescue after breaking through the ice and swimming in a circle for 20 minutes. Zena is more like a cat and has nine lives — one of her close calls was chasing three healthy coyotes up a mountain, turning around and getting chased by them. Guess they were scared off by the big head. Their favorite words are eat, walk, ride, and squirrel (in that order)!
Layla & Zena Recommend:
---

Mille
Companion : Joe D., Copy Chief
Description : Millie is a sweet, dignified, deeply concerned Setter/Spaniel who loves chasing squirrels and birds, snuggling in bed, and lots of attention and fun.
Mille Recommends:
"Her favorite audio program is The Neuroscience of Change, which helps her learn new tricks as she gets on in years."
---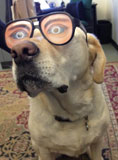 Ula
Companion : Trista R., Employee & Customer Relations Director
Description : Ula is the sweetest yellow lab in the whole world, and maybe the most slobbery. Ula was adopted from the K9 Prison Program and has flourished since her jail break. She knows lots of tricks and will go through them all at once if she thinks a treat might come her way. She loves spending her days at Sounds True with the other pups, but sometimes forgets to use her indoor voice when playing. Ula also loves a good tummy rub, or any hands on healing, from anyone she come in contact with.
Ula Recommends:
"Ula also loves a good tummy rub, or any hands on healing, from anyone she come in contact with."
---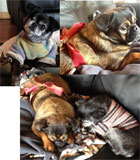 Greta & Momo
Companion : Tori C., Web Product Owner
Description : Greta (aka Eeper or Monkeyface) is our tiniest Sounds True dog at 7 lbs. As a puppy mill survivor, Greta is shy when she first meets you, but rest assured that she will quickly overcome this reflex to transform into the queen of tummy rubs—a process that can be accelerated if you have a treat handy. In spite of her small stature, Greta can bound into her mother's arms at the command of "uppy." — Momo is new to Sounds True and also answers to the nicknames of Dumpling, Potato and Mo. She was saved from a puppy mill after it was raided by authorities, and every day she grows more courageous due to her daily practice: vigilance and moving into the scary bits of life, i.e., paper sounds, clapping, other dogs and being alone. Momo enjoys wearing fine wool sweaters and pretty silk ribbons.
Greta & Momo Recommend:
---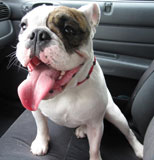 Hoosier
Companion : Kelsey M., Email & Marketing Designer
Description : Hoosier is a 5-year old English bulldog. She absolutely loves coming to work to help earn her keep. When she is not snoring loudly under her mom's desk, you can find her playing ball (more like hoarding the ball). She also enjoys short walks and rolling around in the snow.
Hoosier Recommends:
"I have a short, squished snout, so I sometimes have a hard time breathing and I do a lot of snorting and snuffing. Power Breathing really helps me to breathe my way to health and vitality." —Hoosier
---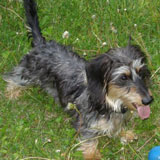 Bella
Companion : Kelsey M., Email & Marketing Designer
Description : Bella is a 7-year old wire-haired miniature dachshund. She enjoys coming to work with her mom and sitting on her lap to help get lots of work done. She also loves playing ball and is obsessed with chasing shadows.
Bella Recommends:
"Ever since playing with a laser pointer when I was a puppy, I have been on a mission to catch any source of light and all shadows. Knowing Your Shadow has taught me about my shadow side, though I haven't been able to catch it just yet." —Bella