Free Gift from Sounds True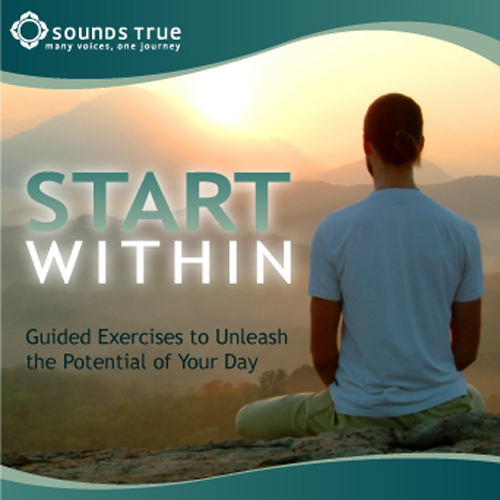 Start Within:
Guided Exercises to Unleash the Potential of Your Day
Details
Start Within: Guided Exercises to Unleash the Potential of Your Day
Are you looking for a way to live each day with unbounded energy, sharp focus, and a clear sense of purpose and presence? Start Within is a series of simple-to-learn yet powerful tools and techniques that you can use from the moment you wake each morning until you fall asleep each evening. It will bring new levels of energy, clarity, and productivity to whatever your day offers.
Tracks include:
"Arising with Intention" by Dr. Rubin Naiman
Dr. Rubin Naiman guides you through a process of waking up each morning, so that you may begin your day with clarity, focus, and openness.


"Feeling Your Sense of Calling" by Dr. Rick Jarow
Dr. Rick Jarow helps you look deeply inside to feel what you are truly called to, and to see what is most important to you as you go out into the world.


"Breathing for Relaxation" by Dr. Andrew Weil
Dr. Andrew Weil introduces you to what he calls "the most powerful technique" he knows for bringing about total body-mind relaxation and integration.


"The Power Breath" by Mark Thornton
Executive meditation coach Mark Thornton teaches a simple, yet powerful exercise you can do on-the-go, in between meetings, and all through your day to bring about energy, focus, and presence.


"Yoga Relaxation" by Shiva Rea
Master yoga teacher and Yoga Journal contributor Shiva Rea teaches you an ancient but easy-to-learn exercise from the yoga tradition to bring you to a deep level of relaxation after a long day.


"Dreamtime" by Dr. Jeffrey Thompson
Internationally acclaimed sound healer Dr. Jeffrey Thompson provides a clinically based musical soundscape in which you let go of the day and enter into a deep, nourishing sleep.