Concentrated gems of wisdom on video, intended to turn the mind to our heart's priorites.
Mukti: Community and Clarity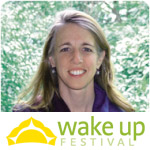 In a time when we feel a sense of disconnection from our fellow humans, many of us feel a powerful drive to be part of a community. Yet what form does such community take, and how do we establish it in our modern context? Mukti, the life and teaching partner of Adyashanti and cofounder of Open Gate Sangha, suggests that in our drive to find something that fits our ideal of what a community should be, we may be missing opportunities to connect. In this video clip, she explores a way in which we can open ourselves to discovering new ways to be part of the greater whole that awaits us.
See Mukti live in August 2013. Visit WakeUpFestival.com for more information.