Mindfulness Monthly
Welcome to Mindfulness Monthly!

Mindfulness Monthly is an online mindfulness and meditation training that brings together leading teachers and practitioners from around the world to create a global community for mindful living.
Mindfulness is the ability to be fully present without getting overwhelmed or reactive. It helps us accept reality as it is and respond to whatever is happening from a place of calm and clarity.
Mindfulness Monthly provides you with a virtual home for your practice, a community to turn to whenever you need support:
Explore time-tested practices, science-based techniques, and new strategies for living a more mindful life

Receive weekly guided meditations on a variety of themes

Learn from our most celebrated teachers, gaining exclusive access to live trainings throughout each month

Enjoy monthly bonus gifts, hand-selected to enhance your practice

Become a vital member in our global community of mindfulness practitioners
Beginners and experienced meditators alike can find a powerful resource in Mindfulness Monthly, one that helps you live fully in the present and discover greater well-being in every area of life.
We hope you'll join us in creating a worldwide movement of mindfulness.
When we get too caught up in the busyness of the world,

we lose connection with one another—and ourselves.
A mindful life
More and more people are turning to mindfulness every day. Why?
Personal Empowerment

When you become more aware of your thoughts, sensations, and reactions in each moment, you are better able to manage them

Creativity Boost

Mindfulness balances the freedom and control regions of the brain, optimizing creative expression, thinking, and problem-solving

A Longer, Healthier Life

Your brain, immune system, pain levels—even the expression of your genes—have all been shown to improve with mindful meditation

Authentic Joy

Find greater satisfaction and meaning in life as you heal old patterns, reduce stress and anxiety, and deepen your relationships

Greater Well-Being

Resilience, outlook, attention, and generosity directly impact overall well-being—and all are enhanced through mindfulness

Good Company

CEOs, athletes, educators, performers—those at the highest levels in every field credit mindfulness with their success
Join a growing
mindfulness community

Practicing mindfulness and meditation on your own is certainly valuable, yet when we come together, something shifts. Each individual practice merges with the energy and intention of the whole, magnifying effects for us all.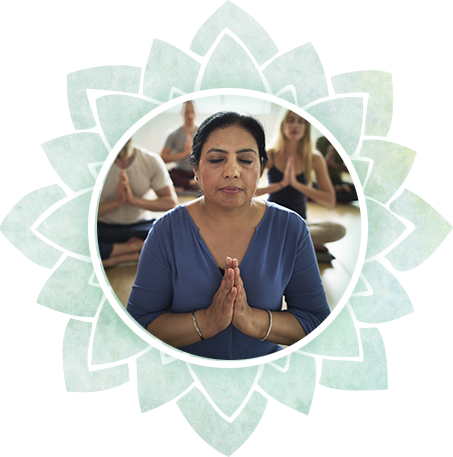 Mindfulness Monthly welcomes you into a thriving global mindfulness community—one where you play an essential role in creating a more mindful world.
Our private online community serves as a sacred space for connecting with others. Here, you can interact with our teachers, moderators, and other group members in a safe, supportive environment.
You'll be able to discuss your experiences, ask questions, and give and receive feedback in the spirit of our collective growth. Posting relevant articles and generating new insightful conversations are welcomed. We've even had members self-organize independent activities in regions around the world!
Perhaps most importantly, we'll host regular live online events with your featured teacher. These exclusive events are your opportunity to join with others around the world in mindful meditation, adding your intention and heart to our collective experience.
An offering designed to support
your practice
Mindfulness comes more easily with daily practice. Different areas of the brain light up when we're being mindful rather than running on autopilot. The more we practice, the more significant and lasting these shifts become.
New lessons each week
Our teachers will share new insights and meditations each week you develop a consistent, nourishing practice—one that serves you throughout your life.
Live online sessions
Every month culminates in a live virtual gathering so you can ground the practices you've been learning. Ask the featured teacher questions and discuss your experiences in small breakout groups.
A private online community
Your private Facebook community provides a safe and active container for your continued exploration. Receive exclusive access to bonus sessions with our teachers and enjoy lively conversations with your fellow members.
Hand-picked bonus gifts
You'll also get a complete product from our Sounds True library on a new topic each month (these will be different from the monthly theme).
Mindfulness is a lifelong path. There is no destination—just a continued journey to create more compassion, authenticity, skill, and joy in your life and your world.
Your Teachers

Kelly Boys

Kelly Boys is a certified iRest® Yoga Nidra teacher and former director of operations for the Integrative Restoration Institute. She most recently directed the creation and implementation of the Search Inside Yourself Leadership Institute's facilitator training program, bringing 100 of the top trainers from around the world through a yearlong mastery program in neuroscience-based emotional intelligence and mindfulness. Kelly has also taught meditation to US veterans with post-traumatic stress disorder and traumatic brain injuries, as well as to women in prisons, cancer survivors, and those with substance abuse addictions. She currently consults with the UN Foundation to create an "Inner Peacekeeping" mindfulness and well-being program for humanitarian workers both on and off the front lines.

Lama Surya Das

Lama Surya Das, who the Dalai Lama affectionately calls "the American Lama," is the one of our foremost Western Buddhist meditation teachers and scholars. He has spent over 45 years studying with many of the great masters of Asia, among them some of the Dalai Lama's own teachers. He established the Dzogchen Center and Dzogchen Retreats and worked with the Dalai Lama to found the Western Buddhist Teachers Network. Lama Surya Das is the author of several books, including the international bestselling Awakening trilogy (Awakening the Buddha Within, Awakening to the Sacred, and Awakening the Buddhist Heart), as well as his latest book, Make Me One With Everything: Buddhist Meditations to Awaken from the Illusion of Separation. He is a regular contributor at HuffPost and Elephant Journal, as well as writing his own blog Ask The Lama.

Diana Winston

Diana Winston is the director of mindfulness education at UCLA's Mindful Awareness Research Center (MARC) and is the founder of UCLA's Certificate in Mindfulness Facilitation. She has been practicing mindfulness meditation since 1989, including a year as a Buddhist nun in Burma, and has been teaching mindfulness nationally and internationally for two decades. Called by the LA Times "one of the nation's best-known teachers of mindfulness," Diana Winston and her work have been mentioned in the New York Times; O, The Oprah Magazine; Newsweek; the Los Angeles Times; and in a variety of magazines, books, and journals. She is the author of Wide Awake: A Buddhist Guide for Teens, and the coauthor, with Susan Smalley, PhD, of Fully Present: the Science, Art and Practice of Mindfulness.

Rhonda V. Magee

Rhonda V. Magee, MA, JD, is a professor of law at the University of San Francisco. She teaches mindfulness-based interventions, and is a student of awareness and compassion practices from a range of traditions. She is a facilitator of mindful and compassionate communication. A fellow of the Mind and Life Institute, she serves as an advisor to institutions ranging from the University of Massachusetts Center for Mindfulness to the Search Inside Yourself Leadership Institute.

Thupten Jinpa

Thupten Jinpa, PhD, trained as a monk at the Shartse College of Ganden Monastic University, South India, and holds BA in philosophy and a PhD in religious studies, both from Cambridge University. He has been the principal English translator to H.H. the Dalai Lama since 1985 and has translated and edited many of his books, including the New York Times bestsellers Ethics for the New Millennium and The Art of Happiness. His own publications include translations of major Tibetan works featured in The Library of Tibetan Classics series and his latest book, A Fearless Heart: How the Courage to Be Compassionate Can Transform Our Lives. He is the main author of CCT (Compassion Cultivation Training), an eight-week formal program developed at Stanford University. Jinpa is the president of the Compassion Institute and has been a core member of the Mind & Life Institute from its inception. Jinpa lives in Montreal and is married with two daughters.

Mirabai Bush

Mirabai Bush holds a unique background of organizational management, teaching, and spiritual practice. She was cofounder of the Center for Contemplative Mind in Society and served as the executive director until 2008, codeveloped the curriculum for Search Inside Yourself at Google, and taught writing and English literature at SUNY Buffalo, where she directed an innovative program for diversifying the university. Mirabai is or has been a board member of Shambhala Sun, Omega Institute, Seva Foundation, Military Fitness Institute, the Dalai Lama Fellows, and Love Serve Remember. With Ram Dass, Mirabai coauthored Compassion in Action: Setting Out on the Path of Service, as well as Contemplative Practices in Higher Education: Powerful Methods to Transform Teaching and Learning with Daniel Barbezat. She is the editor of Contemplation Nation: How Ancient Practices Are Changing the Way We Live.

Lodro Rinzler

Lodro Rinzler is the author of six books on meditation including the best-selling The Buddha Walks into a Bar. . . and the award-winning Walk Like a Buddha. Over the last 17 years, he has taught across the world at conferences, universities, and businesses as diverse as Google, Harvard University, and the White House. Named one of the 50 Innovators shaping the Future of Wellness by SONIMA and one of Greatist's 34 under 34 Rising Stars in Health, Lodro's work has been featured in the New York Times and the Atlantic, and he served as a meditation expert for Good Morning America. In addition to serving as cofounder and chief spiritual officer of MNDFL, Lodro is the founder of the nonprofit The Institute for Compassionate Leadership.

Kelly McGonigal

Kelly McGonigal, PhD, is a health psychologist and award-winning lecturer at Stanford University. A leading expert on the mind-body relationship, her work integrates the latest findings of psychology, neuroscience, and medicine with contemplative practices of mindfulness and compassion from the traditions of Buddhism and yoga. She is the author of The Willpower Instinct and Yoga for Pain Relief.

Andrew Holecek

Coming soon!

Larry Yang

Larry Yang teaches mindfulness and lovingkindness retreats and has a special interest in creating access to the Dharma for diverse multicultural communities. He has practiced meditation for almost 30 years, with extensive time in Burma and Thailand and a six-month period of ordination as a Buddhist monastic. Larry is on the Teachers Council of Spirit Rock Meditation Center and is a founding teacher at both East Bay Meditation Center (Oakland) and Insight Community of the Desert (Palm Springs). His current focus is training spiritual leadership within communities of color and LGBTQI communities. Larry was honored for his work in racial justice by being selected as the community's choice for Grand Marshal in the 2016 San Francisco LGBT Pride Parade. His new book is Awakening Together: The Spiritual Practice of Inclusivity and Community.

Adreanna Limbach

Adreanna Limbach is a personal development coach and meditation instructor who helps women access their inherent clarity and confidence so that they can expand their freedom in business and life. Her work has been featured by the New York Times, Refinery29, Women's Health, and xoJane. As a coach, she's mentored hundreds of people at the Institute for Integrative Nutrition and catalyzed cohorts of tomorrow's leaders in social change as an executive coach and faculty at the Institute for Compassionate Leadership. As a meditation instructor, she has taught secular Buddhist studies and meditation at The Interdependence Project in the heart and hustle of NYC, and served as a lead coordinator of the Meditation Working Group at Occupy Wall Street, bringing daily practice to the volunteers at Zuccotti Park in 2011. Most recently, you can find her on the cushion as head teacher at MNDFL, NYC's premier drop-in meditation studio.

Rolf Gates

Rolf Gates, author of the acclaimed book on yogic philosophy, Meditations from the Mat: Daily Reflections on the Path of Yoga, conducts yoga workshops, retreats, teacher trainings, and coaching and mentorship programs throughout the US, abroad, and online. Rolf and his work have been featured in numerous media outlets, including Yoga Journal, ORIGIN, Natural Health, People, and Travel and Leisure's 25 Top Yoga Studios in the World. Rolf is the cofounder of the Yoga, Meditation, and Recovery Conference at the Esalen Institute in Big Sur, California and the Kripalu Center for Yoga and Health in Stockbridge, Massachusetts. He is a teacher at Spirit Rock Insight Meditation Center in Northern California and is also on the Advisory Board for the Yoga Service Council and the Veterans Yoga Project. A former addictions counselor and US Army Airborne Ranger who has practiced meditation for over 25 years, Rolf brings his eclectic background to his practice and his teachings. Rolf and his wife, Mariam Gates, live in Santa Cruz, California with their two children.

Roshi Joan Halifax

Roshi Joan Halifax, PhD, is a Buddhist teacher, Zen priest, anthropologist, and pioneer in the field of end-of-life care. She received her PhD in medical anthropology in 1973 and has lectured on the subject of death and dying at many academic institutions and medical centers around the world. A founding teacher of the Zen Peacemaker Order and founder of Prajna Mountain Buddhist Order, she has focused her work for more than four decades on engaged Buddhism. She is founder, abbot, and head teacher of the Upaya Institute and Zen Center in Santa Fe, New Mexico; director of the Project on Being with Dying; founder of the Upaya Prison Project, which develops programs on meditation for prisoners; and founder of the Nomads Clinic in Nepal. Her books include The Human Encounter with Death (with Stanislav Grof), The Fruitful Darkness: A Journey Through Buddhist Practice and Tribal Wisdom, Being with Dying: Cultivating Compassion and Fearlessness in the Presence of Death, and her forthcoming Standing at the Edge: Finding Freedom Where Fear and Courage Meet to be released May 2018.
Host

Kelly Boys

March

Lama Surya Das

April

Diana Winston

May

Rhonda V. Magee

June

Thupten Jinpa

July

Mirabai Bush

August

Lodro Rinzler

September

Kelly McGonigal

October

Andrew Holecek

November

Larry Yang

December

Adreanna Limbach

January

Rolf Gates

February

Roshi Joan Halifax