Tami Simon's in-depth audio podcast interviews with leading spiritual teachers and luminaries.
Listen in as they explore their latest challenges and breakthroughs—the leading edge of their work.
Who Is Singing?
Tuesday, February 28, 2012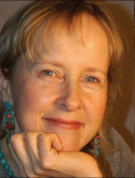 Tami Simon speaks with Chloë Goodchild. Chloë is a teacher, composer, performer, and the founder of the Naked Voice foundation, a charitable trust devoted to healing suffering and resolving conflict through sound. With Sound True, she has created the three-CD program
Your Naked Voice,
and the audio learning course
Awakening Through Sound: The Naked Voice Program to Access Your Deepest Wisdom.
In this episode, Tami speaks with Chloë about what she calls "the sound before sound" and what the sound of the ether might be like. Chloë also leads us through a Naked Voice exercise for tuning into the sound of your own voice called One Breath, One Voice. (61 minutes)
You might also enjoy
More from Chloë Goodchild »