Tami Simon's in-depth audio podcast interviews with leading spiritual teachers and luminaries.
Listen in as they explore their latest challenges and breakthroughs—the leading edge of their work.
Ram Dass and Mirabai Bush: Walking Each Other Home
Tuesday, September 4, 2018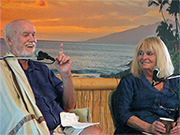 Ram Dass (born Richard Alpert) is a world-renowned spiritual teacher and the author of the indispensable classic Be Here Now. Despite suffering a massive stroke that left him with aphasia, Ram Dass continues to write and teach from his home in Maui. His longtime friend Mirabai Bush is the founder of the Center for Contemplative Mind in Society, and was the one of the co-creators of Google's Search Inside Yourself program. They have teamed with Sounds True to publish Walking Each Other Home: Conversations on Loving and Dying. In this special episode of Insights at the Edge, Tami Simon speaks with Ram Dass and Mirabai Bush about changing our society's dysfunctional relationship to dying, focusing on how to ease fears around the process. They talk about facing a lifetime of regrets and why going into our last moments consciously is so important. Finally, Mirabai leads listeners in a practice designed to help release attachments and comments on why grieving is an important act of love. (63 minutes)

Tami's Takeaway: Ram Dass, who is now 87 years old, has planned at the time of his death for there to be an open-air funeral in Maui. He has even secured a government license for this to happen. Ever the teacher (even when it comes to his own death), Ram Dass's intention is to introduce Westerners to teachings from the East—in this case, the value of sitting with a burning corpse while contemplating impermanence and living whole-heartedly. Of course, we don't need to wait until we are at an open-air funeral to engage in such contemplation. We are each asked to die in some way every day, to let go of an old image of ourselves or an outmoded configuration of some kind. Can we embrace the dying we are going through right now? And in the process, experience our hearts breaking open so that we can live and love fully, without constraint?
You might also enjoy