Our audio producers work for weeks and even months with our teachers, recording and crafting our learning programs. From their hundreds of hours in the studio and editing bays, here are favorite moments chosen by our producers.
Richard Miller: What Is iRest Meditation?
Wednesday, December 2, 2015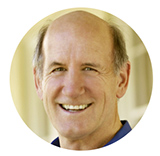 Yoga and meditation teacher Richard Miller set out to create a new method of practice—one that would not only relieve severe cases of anxiety and stress disorders, but which would also act to deepen and broaden our experience to include a sense of wholeness in every moment of our lives. What emerged from his efforts was iRest Meditation—a practice which has been adopted by individuals around the world as well as large organizations like the US Military. In this excerpt chosen by Sounds True producer Randy Roark from the audio learning program iRest Meditation: Restorative Practices for Health, Resiliency, and Well-Being, Dr. Miller explains what iRest is, and how it can be used to transform obstacles into opportunities for greater peace and happiness.
Subscribe: Apple Podcasts | Android | RSS
You might also enjoy
More from Richard Miller »