Sounds True Dogs
As part of our commitment to creating a work environment that honors every facet of life, Sounds True employees are invited to bring their four-legged friends to the office. We are grateful for the cheerful and loving energy that comes from sharing our space with our canine companions—as many as 15 on any given day! Here are some of the dogs (and cats) that regularly join us in our work and play:
---

Razzie
Companion: Tami Simon, Founder and Publisher
Description: "Razzie" (Full name: Raspberry; Most popular nicknames include Razcal, Raz, Razzle Dazzle, Razmatazz, and Razcallion) is an all-black spoodle, which means she is half-cocker spaniel and half poodle. Often referred to in North America as a "cockapoo," Tami and Julie prefer the Australian naming of this mixed breed because of the "ooooh" sound in "oodle." At this writing, Raz is just a puppy, known for her ceaselessly joyful and mischievous nature.
Her favorite ST program is Divine Rebels, enamored as she is with the pioneering mystics throughout history who took great leaps of faith (Raz loves to jump from heights and find herself airborne), and who forged their own path regardless of cultural norms (Raz thinks noses are for biting).
---

Abe
Companion: Kristen Combs, Accounts Receivable Coordinator
Description: Abe is a 6(ish) year-old German Shepherd with achondroplastic dwarfism. He was adopted by Kristen from a German Shepherd rescue in Denver, after being transferred from a shelter in New Mexico. A fragile, sweet soul with a traumatic past and chronic pain, Abe's trust does not come easily. When he first joined the Sounds True family, even Kristen could not look in his direction, and human contact was both scary and physically painful. With the patience and love of the whole company, he has blossomed into the loving creature we all adore. He is now a proud, handsome fella with abundant dog and human friends (Raspberry is his BFF) who takes his job of guarding his home, his cat brothers Corbett, Edgar Allen Poe, Steve, and his mom Kristen very seriously. He can often be found shuffling through the hallways of Sounds True bringing smiles and joy to all who see him.
Abe Recommends:
"Pema showed me how to heal from my past and find friendship and compassion, both for others and, more importantly, for myself."

—Abe
---

Scruffy
Companion: Kasmah McDermott, Executive Assistant & Facilities Manager
Description: Scruffy (aka Scruffalicious, Scruffs, Scruffalo) loves to come to work at Sounds True and takes his job of napping very seriously!
Scruffy Recommends:
---

Bleu
Companion: Kasmah McDermott, Executive Assistant & Facilities Manager
Description: Bleu is a Chinese Crested and Westie mix. He is a happy little guy who loves everyone, even his grumpy brother, Scruffy. His favorite hobbies are: walks, chewing, looking out of windows, and cuddling.
Bleu Recommends:
"I like starting my day meditating with Jack Kornfield and Tara Brach. This program prepares me for everything that life throws at me and gives me a few more moments relaxing before getting out of bed."

—Bleu
---

Ruby
Companion: Amy Sinopoli, Contracts Administrator/Author orders/Permissions
Description: Ruby is a miniature Australian Shepherd whose purpose in life, it seems, is to make all who come in contact with her feel good. She is always ready and willing to offer up her little 15 pound potato shaped body up to anyone who needs some love or comfort. Her favorite things are small humans, big humans, other dogs, treats, and tennis balls (in that order). She lives in the mountains with her human, where she enjoys the cool mountain air in the Summer and Fall and copious amounts of snowfall in the Winter and Spring.
Ruby Recommends:
---

Luna
Companion: Grayson Towler, Deputy Copy Chief
Description: Luna (aka Luna Lovegood, Lunatic, or the Duck-Billed Lunadon) is an Australian shepherd crossed with a chainsaw, and perhaps a dash of kangaroo. The beautiful and speedy Luna came to her home from the Colorado Aussie Rescue. She enjoys crunchable treats, agility training, and breaking trail while her people snowshoe, and is currently trying for the world record in stuffed toy de-stuffing. Luna is a naturally sweet soul who is steadfast in her belief that all beings can achieve oneness through playing with tennis balls.
Luna Recommends:
---

Olive
Companion: Jaime Schwalb, Creative Team Director
Description: Olive (aka Olive-loo or Sweetledee) is one of the newest (and most outspoken) members of the editorial team. She hails from the Pueblo Collie/Sheltie Rescue and has settled into the halls and hearts of Sounds True in record time. Olive has an amazing ability to open doors, jump baby gates (or miraculously remove them altogether), and generally make her presence known. Outside the office, she enjoys long hikes and runs with Jaime and thrives on heavy doses of daily doting.
Olive Recommends:
"I am a rescue dog, and I have had some trauma that made me anxious and afraid. Healing takes time and patience, but it is worth it to be happy."

—Olive
---

Millie
Companion: Joe Ditta, Copy Chief
Description: Millie is a sweet, dignified, deeply concerned Setter/Spaniel who loves chasing squirrels and birds, snuggling in bed, and lots of attention and fun.
Millie Recommends:
"The Neuroscience of Change helps me learn new tricks as I grow older."

—Millie
---

Annie
Companion: Lisa Thomas, Audio Editor
Description: Annie is a retired momma who has come a long way from her days on the streets of Wyoming. She is very pleased to be a part of the Sounds True dog pack. Annie enjoys positive attention, giving kisses, lounging in the sunshine, and doing her "happy dance" (wiggling around on her back with a big smile on her face). Her favorite place at ST is in customer service, where she receives all the loving she could ever ask for.
Annie Recommends:
"What else is there?"

—Annie
---

Jack
Companion: Lisa Thomas, Audio Editor
Description: Jack is one of the newer members of the Sounds True dog family. His mom was found as a stray on a cold winter night in a suburb of Denver and the next day gave birth to 12 puppies. ColoRADogs (a local bully breed advocacy group) came to the rescue, mom and puppies were fostered, and now each of them has a forever home. Jack is a goofy and handsome fellow who loves to play and snuggle—he thinks he is a lap dog despite the fact he weighs over 70 pounds. His favorite part of the work day is playtime in the backyard with his fellow ST pups.
Jack Recommends:
"Three of my siblings are cats and I have witnessed the calming effect this program has on them—it's a lifesaver!"

—Jack
---

Miles
Companion: Andrew Pike, Studio Engineer
Description: Miles is a lifelong ST puppy. Here from the week he was adopted to now, he has grown much like our employees and customers. Perhaps more physically than spiritually, but you never know, he was happy from the minute he set foot through the door!
Miles Recommends:
"I just met you, and this is crazy, but I am a puppy, and I love you unconditionally."

—Miles
---

KikiDee
Companion: Bridgette Boudreau, Chief Direct Marketing Officer
Description: KikiDee is the only child of our Chief Direct Marketing Officer Bridgette Boudreau. She goes by many nicknames including Kiki, Ms. Dee, Stinky Beans, Lorraine (her middle name) but she will basically come if you look in her general direction. She will also come to you if she detects even the slightest amount of emotional distress. Ms. Dee is a cattle dog with a little pit pull thrown into the mix. Kiki's early years were pretty dark but she hit the jackpot after being rescued by not one, but two moms. Now her days are spent in the practice of her most favorite hobbies: Playing frisbee, being codependent, belly rubs, picking strawberries and snoozing in a sunny spot. Did we mention codependency?
KikiDee Recommends:
---

Evy
Companion: Ranee Kahler, Production Artist
Description: Evy (aka Evelyn Masters) is a Jack Russell Terrier pup who loves people and food alike. Her energy goes beyond limits. She loves to run, play ball, cuddle and explore new trails.
Evy Recommends:
---

Layla & Zena
Companion: Beth Skelley, Production Artist
Description: The Girls are big-headed mixes with hearts to match. Don't let this docile photo fool you, their other nickname is The Crazies and they often frighten other dog parkers with their verbose antics. Layla's claim to fame is that she survived a water rescue after breaking through the ice and swimming in a circle for 20 minutes. Zena is more like a cat and has nine lives—one of her close calls was chasing three healthy coyotes up a mountain, turning around and getting chased by them. Guess they were scared off by the big head. Their favorite words are eat, walk, ride, and squirrel (in that order)!
Layla & Zena Recommend:
"Our inner shamans are definitely awakened every time we see the big kitty on the front cover!"

—Layla & Zena
---

Hobart
Companion: Rachael Murray, Senior Designer/Art Director for Sales and Marketing
Description: "I was a homeless puppy living with coyotes on the railroad tracks behind Sounds True. I still feel a little wild, but I am growing up into a good boy."
Hobart Recommends:
"Growing Up Mindful has helped me live in civilization. When I want to bite something, I use my favorite practice for impulse control called 'HALT' to quickly check in with my feelings and needs. When I feel anxious I practice '3-2-1 Contact' to ground and calm myself. Of course I still need my quiet time, but now with Dr. Willard's help, I think humans are pretty okay."

—Hobart
---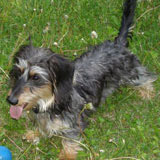 Bella
Companion: Kelsey Matas, Ecommerce Merchandiser
Description: Bella (aka Mrs. or Mrs. Bear) is a wire-haired miniature dachshund. She enjoys coming to work with her mom and sitting on her lap. She loves playing ball and is obsessed with chasing shadows.
Bella Recommends:
"Ever since playing with a laser pointer when I was a puppy, I have been on a mission to catch any source of light and all shadows. Knowing Your Shadow has taught me about my shadow side, though I haven't been able to catch it just yet."

—Bella
---

Indy
Companion: Kelsey Matas, Ecommerce Merchandiser
Description: Indiana (aka Indy, Indy-Doo, or Doods) is a rescue pup, named for Indiana University where her parents met. Part White German Shepherd, part Yellow Lab, Indy has a LOT of energy. She loves coming to work to play with the other dogs. She also loves going on runs with her Mom and Dad and relentlessly trying to lick her little human siblings in the face.
Indy Recommends:
"I have a lot of energy, and listening to Prana Pulse helps me release some of this pent-up energy while also discovering my true rhythm and harmony through the dance of wagging my whole body."

—Indy
---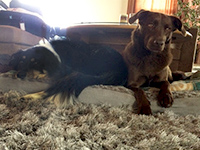 Calvin and Kayla
Companion: Wendy Pardo, Director of Operations
Description: Calvin is a rescue Bernese Mountain mix with a calm and sensitive personality. His favorite things are being groomed and laying in the snow all winter long. Kayla is a rescue Chocolate Lab mix, she is very social and loves to be in the action at all times.
Calvin and Kayla Recommend:
---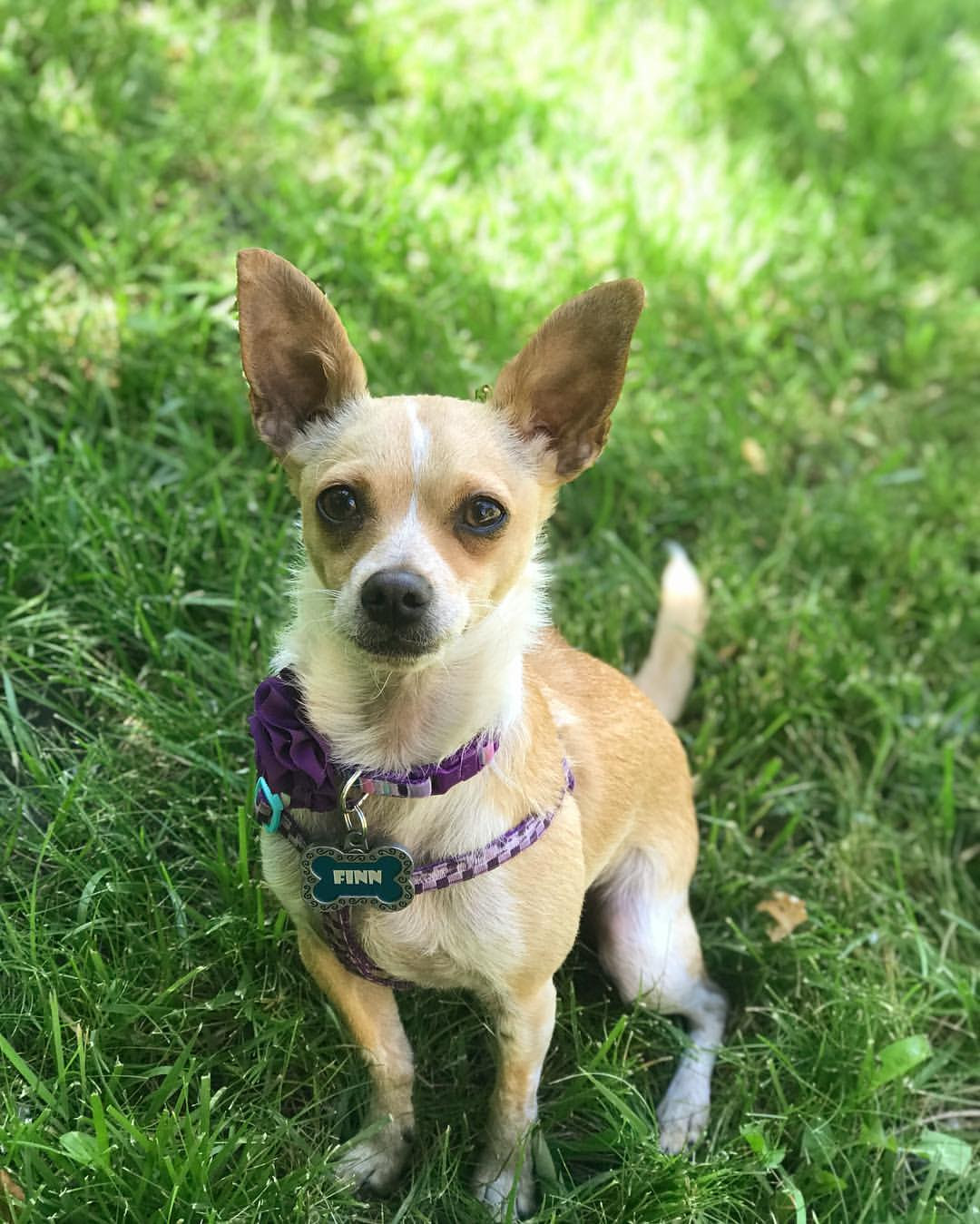 Finn
Companion: Shaqaula Habinsky, eCommerce Marketing Specialist
Description: Always here to cuddle and play, I am my happiest right next to you while we are off onto our new adventure!
Finn Recommends:
"This book is a good reminder to never give up. Pema is oh-so wise!" —Finn
---

Ace
Companion: Scott Youmans, Applications Development Manager
Description: We adopted Ace to be a wise older brother to our slightly younger Wolverine. Instantly, Ace proved himself to be a different kind of feline: people-friendly, calm around dogs, and adventurous without being too scared of the unknown. Once I started working at Sounds True, I noticed that our pet-friendly workplace was very dog-centric and wanted more of a multi-species presence. Because of his adventurous spirit, Ace seemed like he would be a great fit, and so he's been coming to work weekly since 2014. Ace walks in from the car on his leash, and at the end of the day walks back to the car; occasionally, he gets distracted by the grass along the sidewalk, and he is frightened by the train that occasionally goes by. He used to stay tethered to his workstation all day, but he quickly showed that he wasn't interested in wandering around and he now has the freedom of his own office that he graciously shares with me.
Ace Recommends:
"I love racing around the house and chasing after my brother Wolverine. When 'Dancing Ground' from David Stringer's Elixir comes on, it makes me want to leap faster from room to room. It's the perfect CD to listen to after indulging in some catnip. And sometimes when I'm staring out into space and listening to 'Are You There' or 'Wildly Devoted,' I recognize my own purrfect divinity."

—Ace
---

Phoebe
Companion: Chloé Prusiewicz, Product Marketing Manager
Description: Phoebe (aka Phoeberz, Fuzzy-butt, or just Cat) is the bold and brave cat who decided to take over her mama's cube, and maybe a few other offices too. A rescue cat who was stuck in a crate for over a year before her fur-parents adopted her, she loves chasing just about anything, exploring new horizons, and napping on her human's clothes (we often find her napping in our laundry hamper). She is still quite the kitten at heart and a real diva of a cat. She likes to come into Sounds True to visit everyone for pets, treats, and to gaze out their windows. She especially likes the walks outside where she can pounce on grasshoppers in the tall grass and roll around in the dirt. Dogs aren't so scary anymore, but she still prefers the company of loving humans over the barky dogs any day.
Phoebe Recommends:
---

Fitzgerald
Companion: Jaclyn Hawkins, Digital Products Manager
Description: I am Fitzgerald (aka Fitzie, Sweet Potato, soul sista). I spend my days curled up on my mom's meditation mat; it might look like I'm napping, but I'm really just super zen. My favorite Sounds True offering is the Year of Mindfulness, so I can hear from new teachers every month and spend my days "meditating" on what I'm learning.
Fitz Recommends:
---
In Loving Memory
Our furry friends are part of the Sounds True family. Though the following beloved companions have passed, they live on in our memories.

Jasmine (1998–2015)
Companion: Tami Simon, Founder and Publisher
Product Recommendation:
---

Fife (1999–2015)
Companion: Kristen Combs, Accounts Receivable Coordinator
Product Recommendation:
---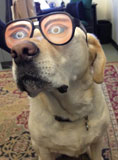 Ula (2008–2016)
Companion: Trista Rucks, HR Director
Product Recommendation:
---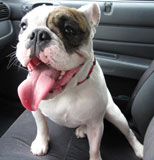 Hoosier (2008–2014)
Companion: Kelsey Matas, Email Marketing Coordinator
Product Recommendation:
---
Ande (2006–2016)
Companion: April Sargent, Operations Manager
Product Recommendation:
---

Una (–2016)
Companion: Becca Job, Proofreader
Product Recommendation:
---

Piper (–2016)
Companion: Hayden Peltier, Video Production Specialist / Audio Engineer
Product Recommendation: